Remember the other day how I posted about Helping Cancun's Animals? Well, I went over to the RAP facility last week and took photos of some of the puppies they have up for adoption now.
I couldn't talk to RAP's director, Maria Alicia, because at the time of our visit she was out saving the life of a pregnant dog that had just been hit by a car.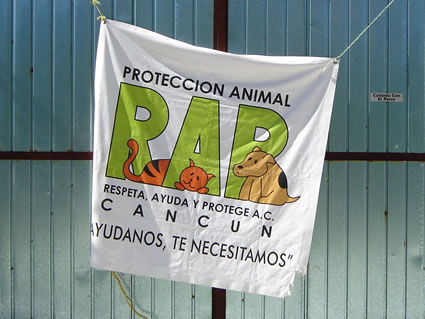 The RAP animal shelter door, a more permanent sign is on the wishlist.
When I was there they had about 20 puppies in all sizes and colors. They also had something in the range of 45 to 50 adult dogs (and I didn't meet a single one that I didn't like).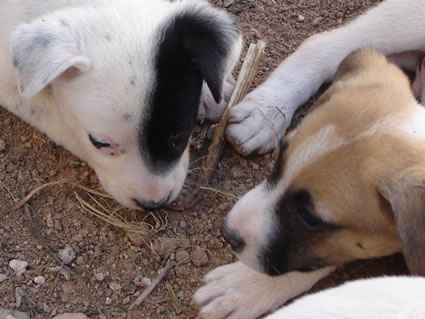 These two are part of a litter of 9 pups that were dropped off while I was there helping out one day. They are beyond cute.
The sole purpose of this post is to nag my friends and readers to help find good homes for the puppies and dogs currently at RAP. RAP needs to get their dogs adopted so that they can free up space to rescue more of the starving and injured dogs we all see everyday in Cancun.

Here's one of their brothers, another cute one.

This little guy almost came home with me, I just love those eyes. But I need more land before I get more dogs.

These guys were really hard to photograph because they wouldn't stop playing! Most of my photos of them are just a blur of cute puppy fur.
Ok, have I pulled enough heart-strings yet? Please do what you can to help. You know you want a doggie!

This little guy was at the bottom of the pile of puppies, I finally got a photo of him when he managed to get out from under his siblings.
You can contact Maria Alicia to make an appointment to meet all the dogs and puppies she has up for adoption. Her number is (998) 206-0056 and she is fluent in both English and Spanish.
Visit the RAP Web Site
Visit the CANDi Web Site
Similar Posts