I've written before about the wonderful work that RAP Cancun Animal Rescue is doing to rescue and rehabilitate street dogs in Cancun. RAP is also working hard to provide accessible preventive health care for pets in Cancun and so last week RAP's clinic was the host location for Cancun's first-ever free Spay and Neuter clinic. The Spay and Neuter clinic was co-sponsored by Cats and Dogs International (CANDi) and VIDAS, which is a wonderful organization that travels the world sterilizing animals. You can read personal accounts of the RAP Spay and Neuter clinic on Cancun Canuck's blog and on CancunTom's blog.
On the last day of the sterilization clinic I went over to RAP to help out, but my plan backfired when Darci, the president of CANDi handed me a puppy to hold. The puppy is a female who is about 2½ months old, she had been found in the street. By the time I met her Darci had already spent more than an hour picking fleas and ticks off of her. Well, you can guess the rest. I walked around for the next few hours carrying this puppy and I couldn't leave her behind when it was time to go home.
We have not named her yet. We've got a list of possible names, but so far none of them has stuck. Sam, the pre-existing dog, is adjusting in fits and spurts to this little puppy. He's really jealous that she's getting so much attention, but he also likes her and has been playing with her quite a lot. It's good to see him with a playmate, he needs that.
The cats are mostly just annoyed. My old lady cat, Grace (who is 17) is having the worst reaction, she's decided that the puppy is a huge annoyance and refusing to eat much. Emma-cat has attached herself to the puppy and follows the puppy around and then sits and watches her, she's fascinated although it seems a bit like morbid fascination if you ask me. Moopie and Lilah just think the puppy is stupid, which is an appropriate and expected cat reaction. The other cats are pretty much just avoiding the puppy. I'm sure all of them will adjust as the puppy calms down and gets used to the rhythms of the house.
Here are photos of the little girl.
This puppy is a girl of action, she's hard to photograph when she's awake because she doesn't stop moving. She will settle into your lap, if you let her. Otherwise she's a-runnin'.
Here she is sleeping, or rather just thinking about waking up. She doesn't sleep for long periods of time, but she does that cute puppy thing of running around and then suddenly falling asleep in one minute.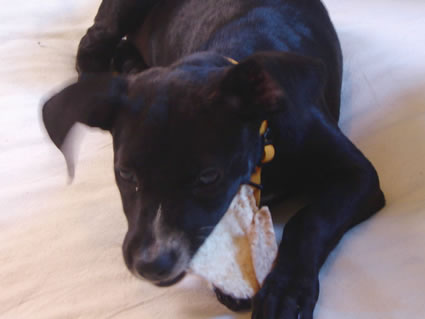 And here she is chewing, which is her favorite thing to do. She chews and chews and chews and chews whatever is available. It's a full-time job chasing her to make sure she's only chewing on proper dog chews. (I think my shoes are history.) Right now she's chewing on Sam, who is chewing right back, so that works. More puppy updates will inevitably follow.
Similar Posts