The illustrious Isla Gringo will no doubt be miffed at me for this because I went to Isla Mujeres recently and didn't tell him I was coming (sorry baby). But it was the last day of my daughter's visit and we didn't plan at all, just got up and on the ferry.
Anyway. One of the first things we did when we landed on Isla Mujeres was to spend a few minutes wandering in the cemetery on the north side of town. Despite the fact that I really, really do not want to be buried I actually like cemeteries.
And Mexican cemeteries are really special I think because they are so colorful and busy. As you can see from the photos below the Isla Mujeres cemetery is packed tight with lots of small above ground crypts (I guess that's what you'd call them anyway).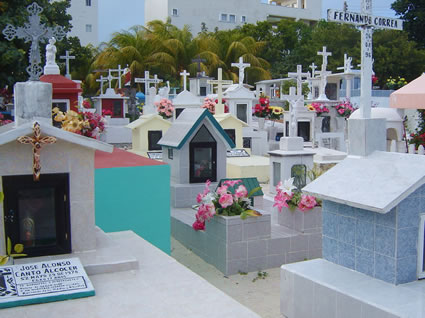 It's hard to walk around in there because the graves are just inches apart. But I really enjoy all the colors and all the different decorations that people put on the graves. We saw crypts painted in all colors. We saw some that were covered in floor or wall tiles. Some of the lower-rent graves were just concrete block with no stucco and no paint. Most of the crypts we saw seemed to be homemade. And not once did I see what we Americans would call a "normal" gravestone.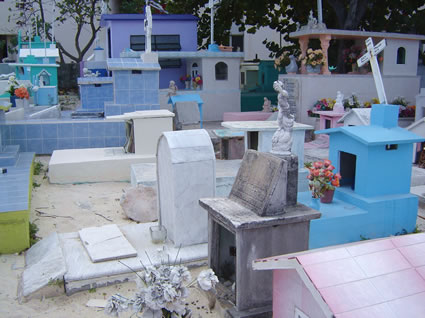 On many graves we saw evidence of offerings for the dead one. Flowers were common but so were other items that I guessed were things that deceased person had loved during life. On one grave we saw an altar with various plastic foods (truly unappetizing), an empty wine bottle (with cork in place), a plastic motorcycle and some laminated scratched off lottery tickets.
The grave in the photo below, I believe, belonged to a young boy. It was adorned with all kinds of plastic and rubber creepy bugs and spiders and alligators and turtles. It also had a half full bottle of soda and a half full bottle of Bevi which I think is chocolate milk. Everything a young boy could want in the afterlife.
I look forward to poking my head into other Mexican cemeteries in my future travels.
Similar Posts