To get the chill of New-England-in-July out of my bones I headed up north to Isla Blanca within 18 hours of landing in Cancun last week. Isla Blanca is not actually an island but more of a skinny little mini-cape that curls around Laguna Chakmochuk, north of Punta Sam.
At some places in Isla Blanca there's not much more than a hundred yards between the ocean and the lagoon. The lagoon is very shallow, and when you muck around in it the water is always really, really warm. The ocean-side has miles of white sandy beach with a bit of turtle grass seaweed thrown up on it by the waves. The water is that perfect Caribbean turquoise color.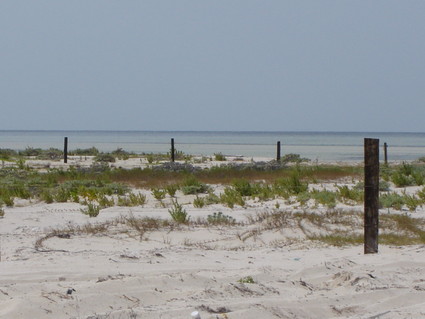 Looking west from the beach at Isla Blanca, you can see Laguna Chakmochuk is just a few hundred yards away
We first fell in love with Isla Blanca 4 years ago, when we moved to Cancun. Back then the road was mostly unimproved, and there were just a few shacks and palapas up there. And I remember remarking the first time I was there that Mexico should preserve Isla Blanca as a National Park.
Our first time up there we saw all manner of water birds, I remember seeing several herons, and many, many pelicans, and the usual million frigate birds, and lots of other birds I can't identify.

Looking north from the beach at Isla Blanca
But of course, why would they make a National Park out of it when they can sell it to developers instead? Silly me. Since I first laid eyes on Isla Blanca there's been all kinds of development between Punta Sam and where the road ends at Isla Blanca. I'm not up to date on all of what's happening there, but I know that an artificial lake was built up there, I saw them lining it with a massive square-mile rubber membrane. And I know they've built a golf course. And there's at least one hotel going in up there, though I suspect it's actually more than one. I should know more, but I've been so disgusted that Isla Blanca is not being preserved that I have deliberately tuned out news of it's development.
I know, I suck, head in the sand and all that, clinging to my ignorance deliberately. But money rules here, and I just find it depressing the way Mexico allows it's most beautiful places to get taken over by hotels. Once the hotels come in the herons will move out, and the Mexicans will be pushed aside and the only people who will enjoy the beauty of (what's left of) Isla Blanca will be the tourists. And that's not good enough for me, in fact it makes me sick.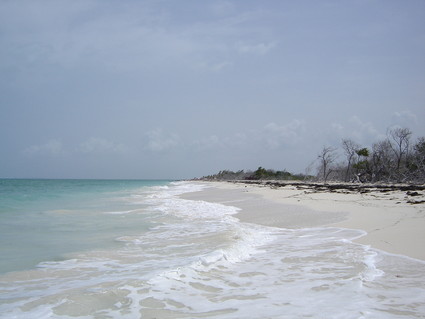 Looking south from the beach at Isla Blanca
But, for now, there are still places in Isla Blanca where you, me, anybody, can go and enjoy a pristine powder sand beach and a seemingly endless view unbroken by hulking ugly hotels.
To get to Isla Blanca we took Bonampak Avenue north out of Cancun. And when, close to Punta Sam, we came to a big manicured glorieta (traffic circle) where there was a gate, we went 3/4 of the way around the circle and got on a road that runs just west of the gate. We took that road until we reached another traffic circle and this time made our way off the paved road onto a dirt road running next to a shack.

Sam the sandy man enjoying the beach at Isla Blanca
Once on this dirt road you simply follow the road until the very end. At the end of the road is a ramshackle "restaurant", not that I would trust my stomach or health to that place, but people do eat there. We parked just south of the restaurant and then huffed it with all our stuff (cooler, beach chairs, umbrella, spy novels, dog) north up the beach another half a kilometer.
And that's where we took the pictures I've posted here. There's a bit of seaweed there. And sometimes there's some garbage, but not much by un-hotel-groomed Mexican beach standards.
I don't know how long Isla Blanca will remain open and accessible. Maybe some part of it will always be open to Mexican non-tourists. I hope so. But I won't bet on it.

Google Earth image of Isla Blanca, the marker is just about where we took the photos
Before Hurricane Wilma hit the road to Isla Blanca went further north. Wilma appears to have destroyed the last half a mile of it or so. Better I say, for it's lack helps preserve the beautiful wild place that still is Isla Blanca.
I warn you though, people HAVE discovered Isla Blanca. Our pictures were taken on Sunday, and you don't see people in them only because we walked north, away from all the people. Down by the restaurant, where we parked, there were several hundred people enjoying the beach. I highly recommend visiting Isla Blanca during the week if you can. If you come mid-week you will see almost no one. Regardless, when you do come be sure to walk north, the farther north you go the more pristine Isla Blanca is.
Similar Posts