A friend of ours, who has lived in Cancun for ages, recommended a great little lunch restaurant to us. It's called Los de Pescado. It's one of those little hole-in-the-wall taco places that has a very short menu (always a good sign in Mexico). They sell batter-fried fish tacos, shrimp tacos, seafood cocktails, seafood tostadas and beverages (and yes they have beer). And since the menu is short you know that they have perfected everything on it.
Los de Pescado is located on Tulum avenue in the block between Labna (where the VW dealer is) and Xcaret (where Office Depot is), it's closer to the Labna end of that block. And it's on the corner of Calle Liebre. They have a palapa (thatched) roof over their sidewalk tables.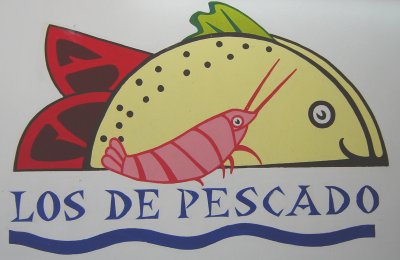 The food is cheap, yummy and plentiful. If you order one of the fish tacos they actually bring you two pieces of fish and two tortillas. So you pay for one but you get two. But the BEST thing about Los de Pescado is actually the salsa. I LOVE their salsa!! When you order your tacos they bring 4 bottles for you to slather on your food, one is simple mayo, but the rest are heaven. One is chipotle with tamarind salsa, one is morita chile with chipotle salsa and the last is habanero chile salsa mixed with mayo. Heaven! In fact this place is so good that I don't want you to go because then I will have trouble getting a table, so stay away!!
Keep in mind that Los de Pescado is open for lunch and early supper only, the hours are 7 days a week from 10 am to 5:30 pm.
I think I will drag the husband down there mañana!
Similar Posts