Below are some photos from our recent trip to Tulum. We rode our bikes a couple of times and stopped a lot to take photos. I also took some photos from our room overlooking the sea.

View of sunrise, this is what I saw from bed.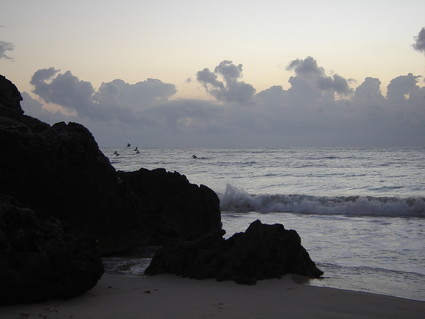 More sunrise, this is what I saw when I went out on the beach to see the sunrise.

We road our bikes into the Sian Ka'an Bio-reserve and we saw this cenote (near the arch).

Another pic from the Sian Ka'an Cenote near the arch.

We took this pic when we went for a ride north of our hotel toward the ruins. Much of Tulum looks like this to me.
I was going to make disparaging remarks about our hotel. But then the hotel emailed me asking for my opinion and I let them have it directly. So in all fairness I will give them a chance to fix things rather than tell you all about how dirty it was and about how the maintenance was lacking and how the bed sagged and forced us to sleep on top of eachother and how the plumbing fell apart while I was taking a shower and sprayed water all over the floor. I'll decline from saying those things. For now. Grin.
Similar Posts