My kid is home from school today because today is the day Mexicans celebrate the start of the Mexican Revolution. The Mexican Revolution gave rise to Mexico's present-day Constitution which among other things is supposed to:
Limit the work day to 8 hours. My husband's shift today as a Federal Agent with Immigration is officially from 7 am to 7 pm, last time I checked that was 50% more than 8 hours! Last Saturday he worked from 7 am to 10 pm which is normal during tourist season (we have about 8 months a year that are considered "tourist season" here). So much for an 8-hour workday, not even government employees enjoy that one.
Establish a Minimum Wage. Well, it did do that but the minimum wage is so low that you cannot possibly live on it no matter how frugal you are unless you live in a shack and eat nothing but rice and beans (which is exactly what a lot of people in this country do).
Limit Child Labor. I don't know what the limits are but when I go to the grocery store a child younger than my daughter bags my groceries. I always want to tell them to go home and study and that I'll bag my own groceries, but instead I tip them well and thank them and put up with it.
Restrict Property Ownership by Foreigners. But of course the foreigners have found all manner of ways to get around this one and are now busy buying the coastline from the tip of Yucatan down to the Belize border. Personally I disagree with this restriction anyway, but it certainly isn't working the way it was intended to.
I have read in numerous places that the Mexican Revolution killed about 1 million people, which was 10% of the country's population at the time (no wonder people here have so many children). I've also read that about 900,000 Mexicans fled to the U.S. during the Mexican Revolution. I can't imagine the emotional wreck this country must have been after the war ended and roughly 20% of it's population was either dead or gone to Gringolandia.
So today we celebrate. Well, I've celebrated already by sleeping late. I cherish those days when I am not forced out of bed at the crack of dawn. Further celebratory plans include possibly hitting a matinee with said kiddo and having a nice café con leche (oh, I forgot, I would do that anyway). Then I plan to work, work, work for the rest of the day (oh yeah, I would do that anyway too).
In the spirit of celebration I will offer up the below photo of a Mexican Christmas ornament which someone gave me. Incidentally we've already put up our Christmas tree, probably ensuring that we'll be completely sick of Christmas by the time it actually arrives. But I just got the bug the other day and had to put it up. My husband now thinks I'm crazy and tells me so every time he sees the tree (but he secretly loves it).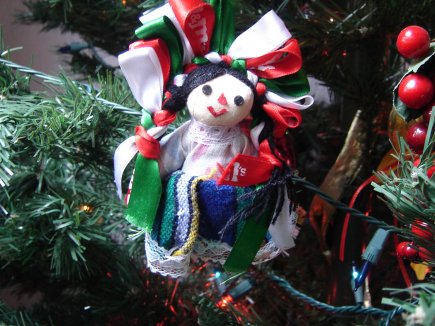 Here is a decent (but long) article about the Mexican Revolution:
Encarta's Article: Mexican Revolution
Here's a much shorter (and less thorough) synopsis of the Mexican Revolution:
MexOnline's Article: Mexican Revolution
Similar Posts