One of the things I love about Mexico is the people, well, some of them anyway. Today my favorite person is Azucena Puc, who had the vision and the spunk to ask the International Women's Club of Cancun to help buy a new wheelchair for her cousin.
Azucena's cousin, Gonzalo Puc, is paralyzed from a birth defect. But despite being wheelchair-bound he sells newspapers in the street and is working his way through school. Gonzalo's old chair is now too small for him and it's so worn and broken that it was barely servicable.
So for the last two weeks the IWC has been working to collect money for Gonzalo's new chair. And yesterday we finally reached our monetary goal and were able to go buy a good wheelchair for this hard-working young man. Today we presented Gonzalo with his new chair and it truly made my day.
But the thing which touched me most deeply was how Azucena fussed over him in that new chair, she was so proud and so loving. Without her he wouldn't have that chair. My hat is off to her for stepping forward and asking for help! I'm just glad we were able to help.
Here is Azucena with Gonzalo in his new wheelchair: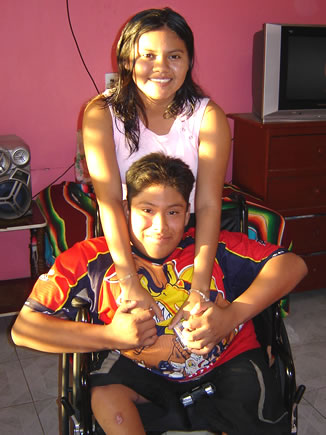 If you would like provide more help to this family please let me know and I will put you in touch with them directly.
More Photos and Info:
Similar Posts