Until recently in order to fly to Costa Rica from Cancun you had to make a connection at another airport, but now you can fly direct from Cancun to San Jose, Costa Rica. The flight is less than 2 hours long.
The company behind these direct flights is a Costa Rican charter tour company called Destinos TV. Destinos TV is bringing Costa Ricans to Mexico for vacation and also the reverse, they are bringing Mexicans to Costa Rica for vacation.
Destinos TV arranged our trip for us including hotels and transportation (you can buy only a plane ticket from them if you wish). It took a little doing to get everything set. But in the end we decided to rent a car through them and drive ourselves where we wanted. Destinos TV also can arrange for group transportation (the group tour route) but we decided against that.
Because our trip was so short (5 days only) and because of our flight times we spent the first and last nights in San Jose, which is close to the airport. Next time I do a trip like this I won't stay in San Jose proper, instead I would stay closer to the airport in Alajuela.
Our hotel in San Jose, the stately Hotel Balmoral, is smack in the middle of this busy city and is surrounded by one-way streets. Had we come in on a package tour, with a bus driver who knew his or her way to the hotel I think we might feel differently about staying in San Jose again. But we rented our car and set out for the hotel in San Jose thinking we had maps and the hotel address and that we would find the hotel without trouble. HAHAHA! We drove in circles for over an hour, always close but never quite finding just the right one-way street. The hotel itself, when we did reach it, was nice and comfortable. It has a decent restaurant/bar and the staff is really attentive. But I do think that next time we won't brave the streets of San Jose.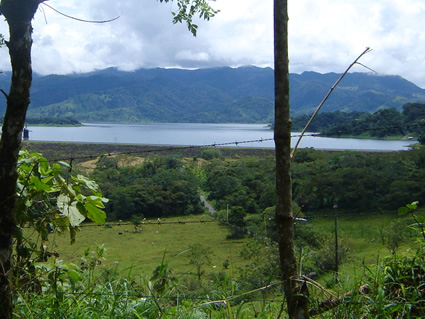 View of Arenal Lake – taken as we were coming down from the Hanging Bridges
Our second day in Costa Rica we drove to San Ramon and then up into the mountains to La Fortuna and Arenal. The drive is lovely. Even though it was rainy and overcast it was absolutely gorgeous! We were completely in love with Costa Rica after just a few minutes on this road. Once near Arenal we found our hotel, the Hotel Arenal Paraiso. We would stay in this hotel again, and again. There was nothing not to like about it. It has hot springs on the property. It has a good restaurant and we enjoyed all of the meals we had there. And the view from our room, well, we came home with so many photos of that same view that I'm embarrassed. Every room at the Hotel Arenal Paraiso overlooks the volcano. And the volcano changes every minute. The clouds descend, then they lift; the light changes, then changes again; the volcano smokes more and then less. We had no choice but to take photo after photo of that volcano.
What I didn't realize until I got to Arenal was that the volcano is active, as in actively making noise. We kept hearing what we thought was thunder and finally found out that the noise we were hearing was not thunder, it was the volcano rumbling and rumbling. I've seen active volcanoes before (and I've even seen flowing lava from 5 feet away, which is an amazing experience), but I had never heard a volcano rumble before. All I can say is "Wow," it's really something to have the earth make all that noise, makes you feel like the insignificant speck in the universe that you are!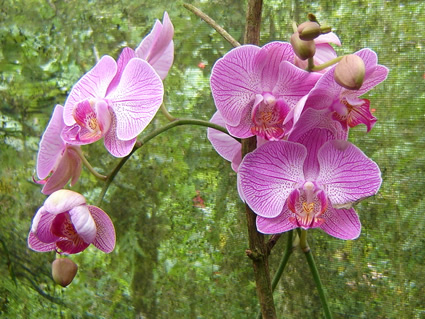 Orchids being grown at the Butterfly Conservatory near Arenal Volcano
The next day we set out to see the area. We decided to visit the Hanging Bridges first. We took the 2 mile hike that crosses all the bridges and fell in love with Costa Rica all over again. We saw no one else while we were on the trail, which made it more intense, it was just us in that rainforest.
The hanging bridges are wonderful. Neither of us is scared of heights, I think if you were you might have trouble crossing the high bridges, some of them are way up in the rainforest canopy. I have a touch of vertigo and it came on while I was on the bridges but I found that if I kept one hand on the railing of the bridge that I didn't get that vertigo disorientation thing.

Howler monkey at the Butterfly Conservatory – he was howling at us like nobody's business
After visiting the hanging bridges we set out for an Arenal Volcano observation area, but soon decided it was cloudy enough that we wouldn't see much. So we bumped our way up a steep, windy, bone-jarringly bumpy dirt road until we got to the Butterfly Conservatory. There we learned exactly how completely impossible it is to photograph butterflies. You can be looking at 20 butterflies but by the time you take the picture they have all left the photo area or closed their wings for a second, effectively disappearing from your picture. Christ, you could not pay me to photograph butterflies!
We also saw the howler monkey in the photo above at the Butterfly Conservatory. He did not like us, not one bit. I think he is not so used to strangers. There were a few folks there while we were there, but they all worked there. I think the monkey knew we didn't belong and wanted us out of there. So we obliged him and left shortly after he started haranguing us.

Another view of the Arenal Volcano
On the way down from the Butterfly Conservatory we drove into a heavy rainstorm. It was pelting down rain so hard it would hurt your head if you were out in it. And then we came around the corner and saw two figures out in the rain with ponchos on, they were hitchhiking. We stopped for them (I have a serious case of rained-on hitchkiker sympathy). It turned out they were from Europe and were both backpacking around the Americas. Both of them were involved with CouchSurfing and after spending a few hours with them, and eating lunch with them we've decided to looking into CouchSurfing ourselves (I've been hearing about it for a while, so this was my tipping point).

A plains view from the area southeast of Fortuna – we saw cows everywhere in Costa Rica
After meeting up with the CouchSurfers we headed back to soak in the hotel's hot springs. I adore hot springs, having once gone on a hot springs tour of Colorado that took me to at least 10 different hot springs. There's nothing like a good soak. And hot springs are great regardless of weather, it came be raining or snowing on you but if you are in a hot spring the weather is fine.
The next day we made our way at a leisurely pace back to San Jose. This time we took the other road down, going through Quesada and Zarcero and finally spending some time in the town of Sarchi, which is known as a hub for crafts. This road was not quite so windy as the road up from San Ramon. But this road had something the other road didn't have, trucks. It had big huge trucks and little trucks and busses and more trucks…and even cars. At least 7 times we came around a corner only to find a semi-truck bearing down on us from OUR SIDE OF THE ROAD! Husbandito remarked over and over that "the car accidents in this country must all be head-on collisions." But he's a great driver (learning to drive in a taxi cab in Mexico City will do that to you) and we were never actually in any danger, though I did scream a few times.
All in all we absolutely loved Costa Rica. It's infrastructure around cars and roads is not the best. The roads need shoulders. The trucks need emissions testing (they ALL stink). There are not enough road signs. But these things are minor compared to the enormous natural beauty that Costa Rica has. We will be going back, hopefully sooner rather than later.
Similar Posts