The other day a woman stopped into my vet's office and asked if the vet would take in 3 starving kittens that had eye infections. My vet said "no" but offered to treat their infections. The woman complained that none of the pet shops she'd been to would take the kittens either (obviously because they were sick).
Well, the woman walked outside the vet's office and dumped the kittens in the bushes in front of the building and then she left. A little while later my husband, who was there helping the vet with some building maintenance, heard the mewing. The vet has been taking care of these kitties since then, she's treated their eye infections, has successfully fattened them up and has neutered each of them. But now it's time for them to find homes.
The two black ones are female and the orange tabby is male. If you know of anyone who might need a kitty (or 2 or 3) in their life please contact me asap.

This female was a skinny little thing when I first saw her, now she sports a belly.

This guy needs a bath but will be gorgeous when he's cleaned up.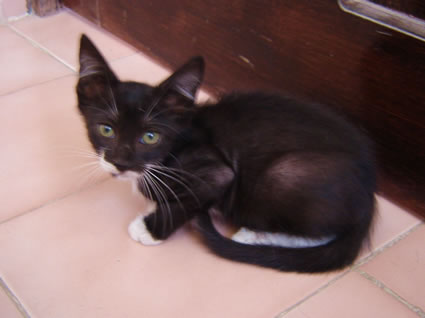 This girl is my favorite, she's got a really sweet personality.

Here are the 3 of them together.
Please help save these kitties. My vet can't keep them, she's already got 6 six dogs that she adopted off the street (after nursing them back to health from various injuries).
Similar Posts