Earlier today my husband decided he would wash my very, very dirty car. But then he got miffed at me and decided not to. And shortly after that I left to go shopping with my daughter.
It's a good thing he didn't bother to wash the car.
My daughter and I ended up at Costco late this afternoon, and when we left the store we found that a car was on fire in the parking lot (not our car fortunately). We came along a few minutes after the real action, I think. What we saw was that some Costco employees and some passersby had just finished spraying this car down with fire extinguishers.
Here are some photos showing what went down after we arrived: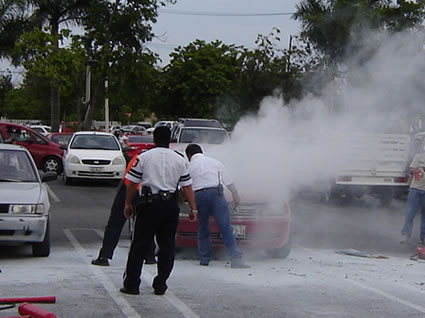 This is what we saw when we exited the Costco store; the air was filled with a mixture of billowing smoke and fire extinguisher dust. It was very stinky.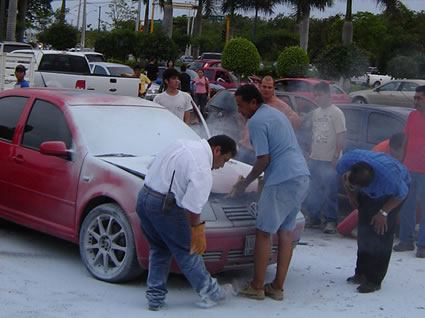 Next, some brave souls donned gloves and tried in vain to open the hood.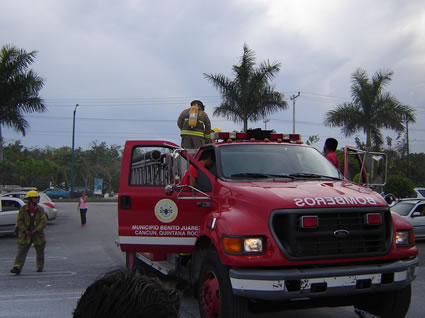 Then the Bomberos showed up with their big red truck (love the big red truck).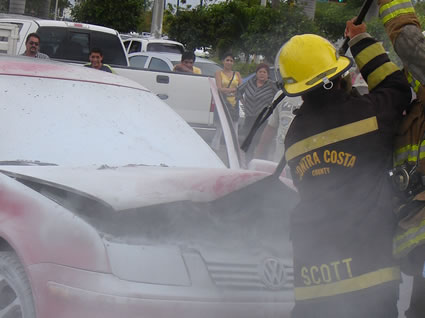 Fortunately the Bomberos also brought a 5 foot long pry bar, which they immediately used to open the hood of the Jetta. You can tell from this fireman's jacket that Cancun's fire department uses donated equipment (it says Contra Costa County on it, that's in California folks).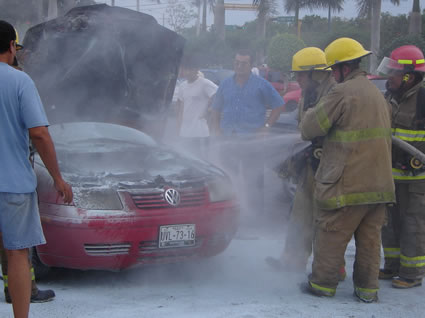 Once the Bomberos got the hood open they proceeded to spray the motor area with water for at least 5 minutes.
There was a big uprising of flames when they first popped open the hood of the car. But the Bomberos got right on it and sprayed it down.
I looked around, through the crowd, to see if I could ID the owner of this poor wreck of a Jetta. And I think I spotted him, he was the only person who seemed concerned rather than interested. The rest of us in the crowd were gawking like there was no tomorrow, but that poor owner was thinking about whether his insurance was going to pay for this mess that used to be a shiny red VW Jetta. Poor guy.
About the time the firemen had sprayed the 400th gallon of water on that motor we got bored and left. Our car had been directly downwind of the burning car, but one row over. It was completely white with fire extinguisher dust.
Like I said, it's a good thing my husband didn't bother to wash my car earlier.
When I got home I washed the car myself. And as soon as I finished it started raining.
Similar Posts