I was browsing the classified ads in Novedades (a local newspaper) today and I came across this ad which just left me stunned: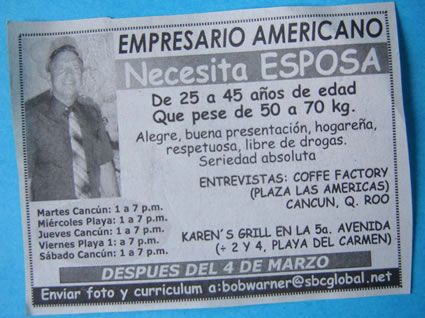 American Businessman Needs a Wife
For those of you who don't read Spanish I'll give you my crappy translation:
American Businessman Needs a Wife
Between the ages of 25 and 45 years
Weighing between 50 and 70 kilos (110 lbs – 154 lbs)
Happy, good presentation (meaning presentable), housewife,
respectful, drug free
Absolutely serious
Then it has interview locations and times.
There all manner of ways in which this is offensive to me. First off the guy doesn't give any information about himself. There just the icky looking picture. Ew!
Then it's clear that he's over 45 himself. Then there's the fact that he's advertising this in Mexico; so he expects Mexicans will all rush out and marry some creepy, desperate American guy they know nothing about? The worst thing is that they probably will.
Then I notice that he doesn't want a woman with education, he wants a housewife. So he must be either terribly boring himself and really likes talking about the best way to clean those toilet rings or he doesn't actually care if she's AN INTERESTING PERSON. Well, she'll be interesting all right, in a desperate, pathetic kind of way.
And then there's the part about the weight. The average woman on the planet weighs around 142 lbs. So he's eliminated a huge number of them just with that. Do you think he'll bring a scale to his interviews?
But for me the worst of all is the crack about being respectful. I think that if I married this man I would not be able to respect myself or him EVER!!!!
The guy is holding the interviews in public, and they are walk-in appointments. So this process is public. That's majorly icky. But I'm thinking of going and getting a coffee during one of his Cancun interview times. Maybe I'll bring a bunch of my friends and sit there giggling at him…and taking surreptitious photos.
Probably I should be respectful, this poor man must be really lonely to be advertising this way. And I actually know several happily married couples who met "on the internet", but somehow this is just too pathetic, too sleazy, too creepy, too one-sided for me. He should have just found a prostitute and offered her a lifetime position. And the woman, well my best advice is to get a great divorce attorney before you walk down that aisle!
Similar Posts